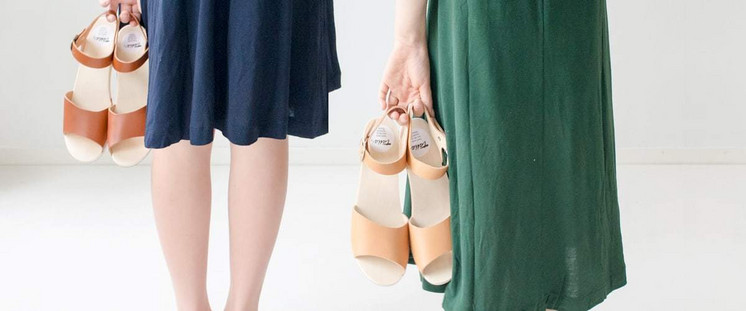 Sustainability of Talla
At our Talla, responsibility aspects have been taken into account throughout our operations. We nurture and develop clog culture by investing in high quality of materials. We manufacture wooden shoes at our own shoe factory in Myrskylä using the best and responsible raw material suppliers.
Clogs are handmade from start to finish - from local birch to finished shoes. There are more than twenty work steps. When we make by hand, all materials can be used accurately with minimal waste.
Sole
The wood we use, mainly birch, comes from the forests nearby. The forests are responsibly managed and FSC-certified. Birch is very durable and beautiful wood, light in color. Years ago, Talla has developed an own design for the sole. The footbed of our clogs and sandals provides support to the foot and makes you feel good whether you need to stand still or be on the go.
Leather
Most of leather we use comes from Lapuan Nahka in Finland. Lapuan Nahka is the only leather factory in the Nordic countries that manufactures laminated high-quality leather products. These products are water-resistant, breathable and durable, and their resistance to abrasion is excellent. The laminated leather products comply with the EN ISO 20345 and EN ISO 20347 standards. Their operations also comply with the ISO 9001 quality management standard and the ISO 14001 environmental management standard.
Talla uses also vegetable tanned leather which comes from Artigiano del Cuoio in Italy. The factory has a hundred-year tradition of dyeing hides and vegetable tanning. The company has the Environmental certification ISO 14001 and TS_SC 410 certificate related to raw material traceability. In addition to these Artigiano del Cuoio has been committed to implementing the requirements of the Burberry Project 2020, a project aimed at the reduction and elimination of hazardous chemicals from the entire production chain, committing to work closely with suppliers and partners of the supply chain.
The nubuck leather is sourced of the Richard Hoffmans factory in Germany. The company has invested in developing environmental aspects and has received the international Leather Working Group gold rating. In addition, they have the ECO₂L label, the world's first calculation and auditing model to determine the energy efficiency and CO₂ emissions of a tannery.
The raw hides of all our suppliers come from Europe and are a by-product of the meat industry.